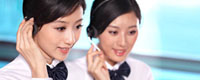 Name: Jessie
Tel: +86-755-27864416
Mobile: +86-18823763597
E-mail: jessie@rxxdisplay.com
Add: 3rd Floor Bldg.11,ChangXing Technical Zone,Wan An Road,Sha Jing town,Ban An district ,Shen Zhen ,GuangDong, China.
Skype: +8618823763597
WeChat: +8615623028461
whatsapp: +8618823763597
QQ: 1610996003





Company News
>> AUO will launch the world's largest 8K 4K full-plane borderless ALCD LCD TV panel
At 2018 Touch Taiwan, AUO will display the world's largest 85吋8K 4K full-plane borderless ALCD LCD TV panel, integrating full-plane borderless, next-generation HDR ultra-high dynamic range, 120Hz ultra-high refresh rate and QD Leading technologies such as quantum dot wide color gamut, with excellent image quality and design, set a new standard for next generation images. At the same time, public information display solutions for transportation can be exhibited. With high resolution, high brightness, high contrast, low reflection, energy saving and durability, it meets the high standards of quality and stability of important transportation hubs such as airports and stations.
In response to the advent of the ultra-HDTV era and the preemption of the 2020 Tokyo Olympics with 8K resolution broadcast opportunities, AUO actively deploys related technologies, including 8K4K (7680 x 4320) ultra-high resolution, full-plane borderless, HDR ultra-high dynamic range, Innovative technologies such as ultra-high refresh rate, wide color gamut of QD quantum dots, and surface design lead the next generation imaging market with the advantages of technology stacking.
AUO 85吋8K 4K LCD TV panel has many leading advantages in the industry, including the exclusive use of GOA (Gate on Array) technology, leading the launch of four-sided full-plane borderless design, maximizing the viewing vision, creating a presence, Super shocking visual experience seen with your own eyes; using a new generation of HDR ultra-high dynamic range technology, combined with local ultra-high brightness (1200 nits) and ultra-low reflection, making black more black, brighter and brighter, showing richer depth and vivid color And a more delicate and realistic picture; with 120Hz refresh rate, all pictures can be kept smooth, bright, clear, accurately control fast moving images and high-speed scenes; display a wider color gamut with quantum dot wide color gamut technology, color saturation Exceeding NTSC 110%, it can display rich color details in any environment.
At the exhibition, AUO will also display public information displays for transportation. For long-distance broadcasts, outdoor and semi-outdoor spaces, such as station halls, platforms, and carriages, we will introduce long, outdoor, double-sided and extreme Public information display products such as narrow-frame splicing wall displays provide passengers with instant and clear waiting information and advertising messages.
Among them, the 37-inch and 42-inch long-length displays can be used for horizontal or vertical use. They are designed with a special lengthening ratio. They are lightly integrated into the distorted space above the chair and are certified by the electronic equipment installed in the railway. High humidity, vibration and other harsh environments ensure quality and durability. Outdoor commercial displays include 21.5", 32" and 65", all of which are characterized by high brightness, ruggedness and high efficiency. They are suitable for outdoor and semi-outdoor locations such as station platforms and outdoor shelters in direct sunlight. The image is still sharp and clear, and can be automatically adjusted to the appropriate brightness with the system to achieve energy saving and optimal viewing.
AUO has successfully developed a number of leading public information display products, including outdoor, retail, transportation and other applications, providing complete solutions for panels, complete systems, playback software and after-sales services, relying on its deep display technology foundation and product manufacturing capabilities. To meet the needs of different field applications.