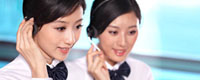 Name: Jessie
Tel: +86-755-27864416
Mobile: +86-18823763597
E-mail: jessie@rxxdisplay.com
Add: 3rd Floor Bldg.11,ChangXing Technical Zone,Wan An Road,Sha Jing town,Ban An district ,Shen Zhen ,GuangDong, China.
Skype: +8618823763597
WeChat: +8615623028461
whatsapp: +8618823763597
QQ: 1610996003





Company News
>> OLED applications into the new focus of cross-strait panel makers ready to go 18th,Apr,2017
The new display technology began to be the focus of the Touch Taiwan display, and the topics will be discussed at the show. Touch Taiwan Display The exhibition has been a leader in the development of global display technology for five years. Whether it is the future application and new technology attention and presentation, it is the industry every year to purchase the panel, understand the new technology, Equipment and materials, to find a new platform for cooperation. In response to market demand, mobile devices and wearable devices are becoming more and more popular, the future lifestyle will emphasize human-computer interaction and information to obtain convenience, so for intelligent mobile devices to be thin, easy to carry, resistant to bending folding Demand, so that consumers can easily carry to enjoy life.
With the smart hand-held device technology increasingly sophisticated, OLED demand also grows, its light, thin, easy to break, foldable, flexible, impact resistance and other characteristics, the future will undoubtedly be the next generation of display technology development direction.
Touch Taiwan 2017 Smart Display and Touch Show will be held from September 20 to 22 at the Taipei Southport Exhibition Hall, this year will be the new display technology as the theme, especially the development of OLED, in the display, the application of lighting will be high-profile , Touch Taiwan will converge OLED manufacturing, equipment, materials applications and other related areas of manufacturers, as a major highlight of the show, is expected to invite domestic and foreign companies to display the most advanced display technology and research and development results, is expected to attract manufacturers to purchase a new type of display Shipping boom, aggressive business opportunities.
OLED is the next generation of important new display technology, with ultra-thin, energy saving, flexibility and other product advantages, more and more mobile phones, television began to use OLED display. IHS data show that OLED demand, high-level television gradually adopted; smart phones, IHS estimates, 2019 when the world's 42% smart phones will be equipped with OLED panels. Smartphone OLED panel revenue in 2020 will increase three times to 24.8 billion US dollars, much higher than the 2014 $ 7.6 billion. OLED is welcome, promising, at present, the global small and medium size OLED panel market 90% from South Korea two panel factory master pie, exports also move closer to the OLED; Taiwan and the mainland panel factory is also ready to go, to follow up investment , Expand production capacity.
Go to the homepage to see more exciting content