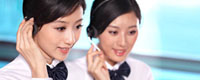 Name: Jessie
Tel: +86-755-27864416
Mobile: +86-18823763597
E-mail: jessie@rxxdisplay.com
Add: 3rd Floor Bldg.11,ChangXing Technical Zone,Wan An Road,Sha Jing town,Ban An district ,Shen Zhen ,GuangDong, China.
Skype: +8618823763597
WeChat: +8615623028461
whatsapp: +8618823763597
QQ: 1610996003





Company News
>> OLED Dongshan resurgence and LCD LCD panel positive fight 19th,Apr,2017
OLED TV is about to enter the 4K Ultra HD (UHD) era, and LCD LCD panel fights! Industry estimates, the future high-end TV market will be OLED, LCD LCD 4K panel big showdown. AUO is also a business opportunity, is expected next year launched 65-inch UHD OLED panel.
OLEDs are seen as the next-generation mainstream TV products, but so far the city's OLED TV is only 55-inch full HD (1920x1080), size and resolution are not catch up with UHD LCD LCD panel (picture quality is 3840x2160 or 4096x2160). However, the fastest estimate of the end of this year, OLED resolution can jump from full HD to UHD, is expected to rewrite the market competition ecology, the first challenge UHD LCD.
LG Display plans to launch 55-inch, 65-inch, 77-inch UHD OLED TV panel, LGD executive Han Xiangan (Han Sang-beom) June press conference also suggested that the production of M2 M2 production line started, the enterprise architecture will UHD as the center The Samsung Display previously failed to open the OLED TV market, had to give up production, focusing on research and development, and now also plans to re-enter the OLED market, to be launched within one year UHD OLED products.
Last year Sony and Panasonic also exhibited 56-inch UHD OLED TV at the American Consumer Electronics Show (CES), demonstrating technological strength. Industry insiders stressed that OLED because of the size and resolution is not enough, failed to meet the needs of high-end market, and now size problems, even if the price is higher, and enough to compete with the UHD LCD.