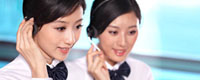 Name: Jessie
Tel: +86-755-27864416
Mobile: +86-18823763597
E-mail: jessie@rxxdisplay.com
Add: 3rd Floor Bldg.11,ChangXing Technical Zone,Wan An Road,Sha Jing town,Ban An district ,Shen Zhen ,GuangDong, China.
Skype: +8618823763597
WeChat: +8615623028461
whatsapp: +8618823763597
QQ: 1610996003





Company News
>> Electronic paper display most suitable for IoT devices
Frank Ko, chairman and CEO of E Ink Technology (EIH), a global leader in e-paper, said recently that in the Internet of Things era, e-paper solutions could become the most competitive terminal display products.
Ko pointed out that various IoT applications are gradually penetrating into all aspects of the scene and living environment, including retail, medical, transportation, education, food, clothing and many other industries.
The latest developments in the Internet of Things network have proven that the idea that IoT applications do not require display devices as interfaces is wrong. On the contrary, in all aspects of the IoT network, it is necessary to show the use of the product, and the effect of the IoT device is better on the display.
The original smart speakers were not equipped with any screens, but many of the recently launched smart speakers are equipped with associated displays, which means that the display device will always be the most important interface between the person and the machine.
But what kind of display products do you need in the Internet of Things era? Ko pointed out that the use of low-power IoT displays is a prerequisite because display devices will be installed in many places that consume a lot of power; in addition, these displays should also be wirelessly charged to ensure integrity and should be easy to use. Outdoor use. In this case, the e-paper solution will be the best choice for IoT displays. Because even if the power is turned off, they can continue to display images. In addition, the electronic paper display will only consume power when there is a change in the pattern on the display.
Previously, the e-book reader battery could be used for one month. EIH is currently working on a battery-free electronic paper solution and says EIH is ready to launch this technology.
Unlike LCDs that require a backlight module or self-illuminating OLED displays, as a new type of reflective display, the electronic paper display does not require any backlight at all. They use an ambient light source to refract objects into the viewer's eyes. Compared to other display technologies, e-paper solutions provide clear images in the sun, making them suitable for use as billboards and public information displays.
E-paper displays based on flexible plastic substrates enable special profile cutting, and EIH is currently working to establish a collaboration agreement with related companies to customize the flexible electronic paper display.
At the same time, EIH is currently providing customers with samples of its advanced color electronic paper (ACeP) solutions for verification, which will lay the foundation for EIH to begin mass production of color electronic paper display products by the end of 2018 or early 2019.