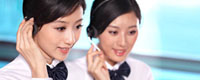 Name: Jessie
Tel: +86-755-27864416
Mobile: +86-18823763597
E-mail: jessie@rxxdisplay.com
Add: 3rd Floor Bldg.11,ChangXing Technical Zone,Wan An Road,Sha Jing town,Ban An district ,Shen Zhen ,GuangDong, China.
Skype: +8618823763597
WeChat: +8615623028461
whatsapp: +8618823763597
QQ: 1610996003





Company News
>> BOE (BOE) achieved revenue of 25.99 billion yuan in the third quarter of 2018
On the evening of October 29, 2018, BOE Technology Group Co., Ltd. released the third quarter report of 2018. From July to September, BOE (BOE) realized operating income of 25.99 billion yuan, and the net profit attributable to shareholders of listed companies was 4. 100 million yuan.
According to global market research firm IHS data, global large-size LCD panel shipments increased by 7% in the third quarter compared with the same period of last year, and shipments increased by 14% compared with the same period of last year. BOE (BOE) accounted for 23% of large-size panel market The rate is the highest in the world. Although the panel price has rebounded from the end of the second quarter, it is still at a historical low.
Since BOE (BOE) Hefei's 10.5th generation TFT-LCD production line has been mass-produced, its production capacity has increased rapidly. It is expected that the glass production volume in the fourth quarter will reach more than 90K in a single month, and the market share of 65-inch and 75-inch panels will be global. At the same time, BOE (BOE) flexible AMOLED display has been supplied to many world-renowned brands. According to the latest report from industry research institute CINNO Research, BOE (BOE) AMOLED mobile phone panel shipments continued to grow, and the shipment area increased by 62%. As the main reason for the significant growth of domestic AMOLED mobile phone panel shipments in the third quarter, shipments in the fourth quarter are expected to continue to grow by around 50%.
BOE (BOE) Vice President and Secretary-General Liu Hongfeng said: "As of the third quarter, BOE smartphone LCD display, tablet display, notebook display, display display, TV display shipments continue to be the world's number one 1. As the market demand continues to grow in the fourth quarter, BOE will continue to lead in the display field. At the same time, BOE's continuous launch of innovative products and services in the IoT system and smart health will further enhance the company's global competitiveness."