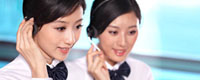 Name: Jessie
Tel: +86-755-27864416
Mobile: +86-18823763597
E-mail: jessie@rxxdisplay.com
Add: 3rd Floor Bldg.11,ChangXing Technical Zone,Wan An Road,Sha Jing town,Ban An district ,Shen Zhen ,GuangDong, China.
Skype: +8618823763597
WeChat: +8615623028461
whatsapp: +8618823763597
QQ: 1610996003





Company News
>> Samsung S10 Lite glass panel exposure: very narrow border
Although the Galaxy S10 and Galaxy S10+ will be Samsung's flagship models in 2019, the same series of Galaxy S10 Lite is likely to be the best-selling model. At present, the glass panel of S10 Lite is exposed online, showing that the frame of the machine is very narrow.
The photo of the Galaxy S10 Lite glass panel shows that the four borders of the camera are very narrow and almost the same width. If the picture is true, then the screen ratio of the machine should reach a new height. In addition, according to previous reports, S10 Lite is likely to adopt screen opening technology.
Similar to the higher-end Galaxy S10 and Galaxy S10+, the Galaxy S10 Lite will feature a Super AMOLED display with the same QHD + resolution. However, unlike the S10 and S10+ using a 19:9 aspect ratio, the Lite version is designed to follow the steps of the Galaxy S9 series, which is 18.5:9.
In addition, the Galaxy S10 Lite has only two rear cameras. It is expected that there will be three Galaxy S10s and four Galaxy S10+s.
Not surprisingly, the Galaxy S10 Lite will be officially released with the Galaxy S10 and S10+ at MWC 2019 in February and will be available for sale in March.