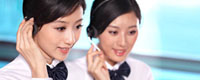 Name: Jessie
Tel: +86-755-27864416
Mobile: +86-18823763597
E-mail: jessie@rxxdisplay.com
Add: 3rd Floor Bldg.11,ChangXing Technical Zone,Wan An Road,Sha Jing town,Ban An district ,Shen Zhen ,GuangDong, China.
Skype: +8618823763597
WeChat: +8615623028461
whatsapp: +8618823763597
QQ: 1610996003





According to industry sources, PMOLED panels are becoming more popular, especially in custom niche markets where orders are small and product designs are diversified.
The narrowing of the price gap between PMOLED panels and STN LCD panels is also a major factor in the former to replace the latter: the current cost per inch of PMOLED panels is $1-2, while the production cost per inch of STN LCD panels is $0.6. .
At the same time, the competition in the PMOLED industry is not as intense as in the STN LCD or TFT LCD field, because currently about 90% of the global PMOLED market is dominated by four major manufacturers - Sic Bo Technology, Zhi Jing Optoelectronics, Visionox and Xinli Optoelectronics control. Other suppliers, including Pioneer, Futaba, and Nippon Seiki, are relatively small.
According to sources, the market share of PMOLED panels in the display device market below 3 inches has climbed to 18% in 2017, driven by the growing market for wearable devices, and the soaring trend will continue all the way.
Sic Bo Technology said that its PMOLED panels are currently used in medical, industrial, automotive, networking and wearable applications. In response to the growing demand in these areas, Sic Bo Technology plans to increase production capacity by 15-20%.