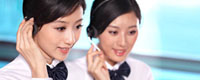 Name: Jessie
Tel: +86-755-27864416
Mobile: +86-18823763597
E-mail: jessie@rxxdisplay.com
Add: 3rd Floor Bldg.11,ChangXing Technical Zone,Wan An Road,Sha Jing town,Ban An district ,Shen Zhen ,GuangDong, China.
Skype: +8618823763597
WeChat: +8615623028461
whatsapp: +8618823763597
QQ: 1610996003





Company News
>> Amers Semiconductor Introduces Optical Sensors
Ames Semiconductor, the world's leading provider of high-performance sensor solutions, announced the TCS3701, an RGB light sensor and infrared proximity sensor IC that accurately measures the ambient light intensity behind an OLED screen. This feature caters to today's industry design trends by maximizing the display area of ​​the smartphone by eliminating the front bezel, which is typically the location of the ambient light/proximity sensor.
By developing this "OLED back screen" ambient light/proximity sensor, Amers Semiconductor enables smartphone manufacturers to achieve the highest display area to body size ratio while retaining key touch screen disable and automatic display brightness/color adjustment functions This requires an RGB/infrared light sensor.
Although the TCS3701's operation behind the illuminated OLED display is limited, it still senses ambient light in the light from the display screen, superimposed on the display pixels directly above the sensor. Amers Semiconductor has developed a unique algorithm that accurately detects ambient light levels without knowing the pixel brightness of the display above the sensor.
Light transmission through the OLED screen is limited by its transmittance, but the TCS3701's ultra-high sensitivity to light indicates that it can still perform accurate light measurements under all lighting conditions.
The TCS3701 is available in a small 2.0mm x 2.5mm x 0.5mm OQFN package that can be placed behind the OLED screen of a smartphone. It gives smartphone designers the flexibility to install infrared emitters to support proximity sensing at the optimal front position. The crosstalk compensation algorithm provides reliable proximity sensing performance.
David Moon, senior marketing manager at Amers Semiconductor, said: "Today, smartphone OEMs are working hard to maximize the screen share of the product and minimize the border area of ​​the display surface. The TCS3701 allows handset designers to A trend to a new level may completely eliminate the border. This is because the TCS3701 can be run behind an OLED display, and excellent device sensitivity and sophisticated measurement algorithms enable this breakthrough to compensate for optical distortion caused by the OLED display."
Samples of the TCS3701 are available now. The unit price is $1.25 when ordering 1,000 pieces.