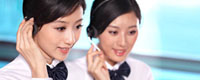 Name: Jessie
Tel: +86-755-27864416
Mobile: +86-18823763597
E-mail: jessie@rxxdisplay.com
Add: 3rd Floor Bldg.11,ChangXing Technical Zone,Wan An Road,Sha Jing town,Ban An district ,Shen Zhen ,GuangDong, China.
Skype: +8618823763597
WeChat: +8615623028461
whatsapp: +8618823763597
QQ: 1610996003





Company News
>> BOE beyond the LGD large-size panel leapt to the LCD leader 22th,Apr,2017
Chinese companies are starting to focus on large-scale investments in OLED panels used in smartphones. Including BOE Technology Group (BOE) and other six major Chinese enterprises have established a new factory, is expected by 2020, the total investment is expected to more than 2 trillion yen (about NT $ 5,779 billion).
The report pointed out that Chinese enterprises with local governments from the huge amount of financial assistance to implement the large-scale investment in OLED panel, against Korean manufacturers. With the large-scale launch of Chinese enterprises, smart phones with OLED panels in the future may develop and TFT-LCD panel comparable to the market.
According to further analysis in the report, in the field of display devices such as smart phones and televisions, Japanese companies have taken the lead in the accumulation of basic technology, whether it is the mainstream TFT-LCD or a new generation of organic OLEDs. However, since the 2000s, the Korean manufacturers have mastered the initiative of LCD production, smart phones with OLED global market is currently almost South Korea's Samsung Electronics monopoly.
But on the one hand, Chinese enterprises in the field of LCD panels continue to increase production investment, is expected before 2018, in the national production capacity will surpass South Korea, take the world's first throne. Not only that, Chinese companies are also extending the business to the OLED panel, which makes the layout of cutting-edge electronic components of Chinese enterprises become more and more clear.
At this stage, China's largest panel maker BOE Technology is building OLED panel factory in Chengdu, Sichuan, which will have the capacity to supply 10 million smartphone panels per month. The amount of investment will exceed 500 billion yen (about NT $ 144.465 billion). The plant will be put into operation in phases, the first in 2019 will start mass production. As for, Huaxing Photoelectric (CSOT) is also building the same size factory in Wuhan, Hubei.
As the United States Apple (Apple) has revealed to customers, 2017 new iPhone part of the plan intended to adopt OLED. As a result, BOE Technology and Huaxing Optoelectronics decided to implement a huge investment, which is believed to have been affected by the news. The two companies to judge, that Huawei Technologies and other Chinese smart phone manufacturers will also begin to use OLED, making the demand is expected to increase.
Compared with TFT-LCD, OLED can show bright colors, and can be bent. Therefore, the design provides a greater degree of freedom. Smart phone manufacturers that this is conducive to the development of a new generation of products, began to gradually adopt OLED, and panel manufacturers are also stepping up supply.
Also in China Tianma microelectronics group layout, it is in Wuhan City, the construction of TFT-LCD factory, with a special OLED factory. And Hui photoelectric and peacekeeping letter Connaught display technology and other enterprises, but also plans to build a new factory. As for the start-up companies such as Soft Technology, it has made investment decisions with more than 300 billion yen (about NT $ 86.679 billion) with the help of local government funds.
The future, if the Chinese enterprises to start production as planned, the global mobile phone shipments conversion, production capacity will meet the market demand for more than 3 percent. However, OLED production technology is more difficult. Even a year to produce about 300 million smart phones with Samsung, but also to improve the yield and worry. Therefore, a substantial increase in production may lead to market prices, coupled with improving the yield difficulties, but also cause the cost increase, which will make the Chinese enterprises are facing the risk of deterioration of operating conditions.