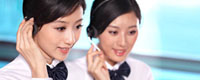 Name: Jessie
Tel: +86-755-27864416
Mobile: +86-18823763597
E-mail: jessie@rxxdisplay.com
Add: 3rd Floor Bldg.11,ChangXing Technical Zone,Wan An Road,Sha Jing town,Ban An district ,Shen Zhen ,GuangDong, China.
Skype: +8618823763597
WeChat: +8615623028461
whatsapp: +8618823763597
QQ: 1610996003





Company News
>> The public display market is hot AUO and Innolux are competing for the situation
Due to the high gross profit margin of the public display (PID) market and the increasing demand from smart cities and smart retail applications, Taiwanese LCD panel makers are scrambling to open up this market.
PIDs are usually custom products, so manufacturers must meet customer specific requirements for brightness, resolution, specifications, and even outdoor waterproofing. According to industry sources, the price of custom PIDs is often 5-10 times higher than that of ordinary display devices of the same size.
AUO is currently a leader in PID production and services, offering solutions including digital signage, interactive screens, traffic boards and video walls, all with ultra-narrow bezels and LED backlights. And the advantage of low power consumption. In addition, AUO also offers a variety of panels, integrated display systems, video playback software and after-sales services to meet the needs of different application scenarios.
In order to expand the value chain of the PID panel, AU Optronics acquired 100% of the US digital display billboard system and content integrator ComQi in 2018 for US$28 million. In addition, a service subsidiary has been set up to provide new general-purpose hardware and software integration services for online and offline retail operators.
Qunchuang Optoelectronics, another leading panel manufacturer that is also eyeing the PID market, launched the 85-inch 4K far-infrared public display at a film festival in Taiwan in early January 2018, and recently joined the Republic of China Foreign Trade Development Association (TAITRA). ) Cooperation, a smart retail pavilion was set up at CES 2019.
James Yang, general manager of Innolux, said that the company has partnered with Family Mart to set up an unmanned convenience store in its complex in the Southern Taiwan Science Park (STSP), installing more than 20 monitors and IoT monitoring equipment. It integrates Innolux's electronic screens, digital signage and transparent screens of refrigerators.
According to Yang, the 23.1-inch strip display developed by Innolux can be used as a platform to integrate software, image recognition and consumer traffic big data analysis to help sales in smart home furnishing stores increase by 60%. He said that Innolux will adopt the idea of ​​integrating electronic tags and online advertising to provide customers with more cutting-edge services.