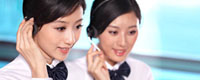 Name: Jessie
Tel: +86-755-27864416
Mobile: +86-18823763597
E-mail: jessie@rxxdisplay.com
Add: 3rd Floor Bldg.11,ChangXing Technical Zone,Wan An Road,Sha Jing town,Ban An district ,Shen Zhen ,GuangDong, China.
Skype: +8618823763597
WeChat: +8615623028461
whatsapp: +8618823763597
QQ: 1610996003





Company News
>> Public manufacturers show 8K display products 8K era is coming
It is reported that at the CES 2019 that ended recently, many IT suppliers and display equipment manufacturers have exhibited a series of 8K display products in the terminal market. It also indicates that the 8K display market will mature in the next 1-2 years.
Well-known brands such as Samsung Electronics, LG Electronics, Sony, Sharp and Panasonic, as well as major Chinese manufacturers including TCL, Skyworth, Konka and Hisense, have demonstrated 8K TVs and other 8K products.
Before the annual technology event held in Las Vegas, Japan's NHK used satellite transmission of 8K video signals on December 1, 2018, paving the way for the official 8K broadcast of the upcoming 2020 Tokyo Olympics. The demonstration also describes the possibilities for future development of the 8K industry.
Compared with Foxconn's recent measures to strengthen the 5G + 8K industry, NHK's efforts and the situation seen at the Consumer Electronics Show in 2019 are very optimistic. At that time, Taiwanese supply chain manufacturers were reluctant to enter the 8K ecosystem because they believed that the commercialization of 5G networks would not be realized by 2020, coupled with concerns about high prices and availability of 8K products, and considered the industry to the end market. The demand for 8K devices will be very small.
Although the development of related 8K technology and hardware products has become popular, some brand manufacturers have begun to sell 8K TV. Some manufacturers in Taiwan are still skeptical about the prospect of 8K market, and believe that the initial development of 8K equipment will be mainly applied to healthcare, industry and Security monitoring and other commercial areas, not the consumer market. These manufacturers also believe that the 8K industry is difficult to take root in the consumer market due to the extreme lack of 8K content compared to relatively mature hardware products.
Indeed, it makes no sense to use high-resolution television to view television content with a general grade resolution. For 8K content creators, they need to be aware that 8K content requires not only higher resolution standards, but also how the details can be clearly displayed in 8K.
As a result, the sector with the highest growth potential in the 8K supply chain is likely to move from a current focus on end-market devices and related hardware products to a content-centric production segment.