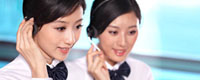 Name: Jessie
Tel: +86-755-27864416
Mobile: +86-18823763597
E-mail: jessie@rxxdisplay.com
Add: 3rd Floor Bldg.11,ChangXing Technical Zone,Wan An Road,Sha Jing town,Ban An district ,Shen Zhen ,GuangDong, China.
Skype: +8618823763597
WeChat: +8615623028461
whatsapp: +8618823763597
QQ: 1610996003





Company News
>> Continuous ninth quarter net loss JDI considers layoffs of 1,000 people
On May 15, Japan Display Corporation (JDI) announced its full-year earnings report, which said its fourth-quarter loss was 98.6 billion yen ($8.9922 billion), compared with 147 billion yen in the same period last year. In addition, the total net loss for the year was 109.4 billion yen, much lower than the average estimate of 13.47 billion yen by the six analysts surveyed by Refinitiv. This is the fifth consecutive year of losses.
The Wall Street Journal recently reported that the disappointing sales performance of the Apple iPhone XR has affected the global supply chain, one of which is JDI.
In response, the JDI spokesman declined to respond.
In addition, JDI also said that its panel factory has written down 75.2 billion yen and will cut about 1,000 jobs, accounting for about one-tenth of the group's total workforce.
The mainland and Taiwanese business alliances will pay close attention to this result, they postponed up to 80 billion yen investment this week to re-evaluate the company's prospects.
The bailout agreement will make buyers including Taiwan's flat-panel TV maker TPK Holdings Ltd. and mainland investment company Harvest Group the largest shareholder in Japan, with a 49.8% stake, replacing the INCJ fund supported by the Japanese government.
It seems that long-term delays may jeopardize the survival of JDI.