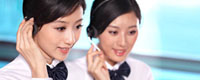 Name: Jessie
Tel: +86-755-27864416
Mobile: +86-18823763597
E-mail: jessie@rxxdisplay.com
Add: 3rd Floor Bldg.11,ChangXing Technical Zone,Wan An Road,Sha Jing town,Ban An district ,Shen Zhen ,GuangDong, China.
Skype: +8618823763597
WeChat: +8615623028461
whatsapp: +8618823763597
QQ: 1610996003





Company News
>> HTC mobile phone is once again on the official mall
Recently, HTC mobile phones have been re-launched in the official mall, but the HTC official mall is only available in HTC U12+, and several other mobile phones are out of stock.
In recent years, with the increasingly fierce competition of smart phones, HTC mobile phones have been on the decline. In September 2017, Google announced the acquisition of part of HTC's mobile phone business for $1.1 billion. The acquisition was completed in January 2018. In December 2018, HTC released all the mobile phone products of the Tmall flagship store. At that time, the relevant person in charge of HTC responded to this news and said that it was temporarily out of stock and will be put on the shelves. At that time, Chen Bojun, general manager of HTC Taiwan, said that in the first half of 2019, the "non-Ping flagship machine" war, HTC will face the mid-to-high-end new machine to ensure that every mobile phone product is profitable.
Earlier this month, HTC officially issued a document saying: "In consideration of HTC China's long-term business strategy, we will temporarily close the HTC mobile phone Jingdong flagship store and Tmall flagship store. You can still pass the HTC official mall and HTC VIVE flagship store ( Address: 601, 6th Floor, CEEC, Shenye Shangcheng, northwest of Huanggang Road and Lianhua Road, Futian District, Shenzhen, China. Purchase HTC smartphones and accessories. We will continue to provide you with quality pre-sales and after-sales services. Then netizens guessed that HTC would withdraw from the mainland market.
However, it seems that HTC has not completely abandoned the Chinese market.