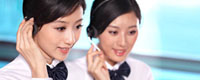 Name: Jessie
Tel: +86-755-27864416
Mobile: +86-18823763597
E-mail: jessie@rxxdisplay.com
Add: 3rd Floor Bldg.11,ChangXing Technical Zone,Wan An Road,Sha Jing town,Ban An district ,Shen Zhen ,GuangDong, China.
Skype: +8618823763597
WeChat: +8615623028461
whatsapp: +8618823763597
QQ: 1610996003





Company News
>> Sino-US trade dispute escalation AUO, Innolux emergency strategy came to power
It is reported that in response to the escalating Sino-US trade dispute, China's two major flat-panel manufacturers, AU Optronics and Innolux, are taking active measures to adjust production capacity.
While paying close attention to the follow-up development of Sino-US trade disputes, AUO still retains its module production capacity in Taiwan; if the United States raises tariffs on related products, it can adjust the production capacity to produce back-end modules and other products. In addition, AUO will also adjust the production capacity of some high-end products to further diversify its production base to reduce the risks brought about by changes in the single market.
Innolux believes that with sufficient capacity in China and Taiwan, it can quickly adjust production capacity to cope with changing market conditions.
Innolux also said that while maintaining the module production capacity of Taiwan's auto, TV and mobile phone panels, it will continue to maintain the production capacity of automotive panel modules in Shanghai, TV panel modules in Foshan and mobile panel modules in Nanjing.
At the same time, Innolux will implement a strategy to respond to its call for "localized services" in mainland China, providing direct manufacturing and marketing services in mainland China.