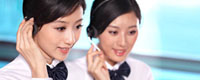 Name: Jessie
Tel: +86-755-27864416
Mobile: +86-18823763597
E-mail: jessie@rxxdisplay.com
Add: 3rd Floor Bldg.11,ChangXing Technical Zone,Wan An Road,Sha Jing town,Ban An district ,Shen Zhen ,GuangDong, China.
Skype: +8618823763597
WeChat: +8615623028461
whatsapp: +8618823763597
QQ: 1610996003





Company News
>> AMD and Samsung reached a strategic partnership to bring Radeon graphics cards to smartphones
The Taipei Computer Show (Computex) has just ended, and AMD has found a new strategic partner for itself - Samsung. South Korean giant Samsung officially announced a multi-year strategic cooperation with AMD, the two sides will seek greater development in the field of ultra-low power, image processing solutions, and AMD will license the related technology of Radeon graphics card to Samsung's mobile device products. Samsung is expected to build it into its own ARM-based Exynos processor.
AMD's Radeon technology can be found on computers, mainframes, and cloud platforms. The cooperation with Samsung will give them the opportunity to occupy a place in some of the most popular mobile phones on the market. AMD's RDNA architecture is likely to replace the ARM GPU Mali infrastructure currently used by Samsung in its Exynos chips.
Korean manufacturers tend to release phones with different chipsets in different countries. Traditionally, in the United States, Canada, China, Japan, and Latin America, Samsung uses Qualcomm's Snapdragon processors in its mobile devices, with Adreno GPU technology hidden in SoCs.
AMD's CEO, Dr. Lisa Su, said, "The strategic partnership with Samsung will allow AMD's high-performance Radeon display technology to enter the mobile market, greatly expanding the Radeon user base and development ecosystem."