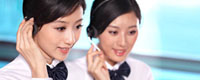 Name: Jessie
Tel: +86-755-27864416
Mobile: +86-18823763597
E-mail: jessie@rxxdisplay.com
Add: 3rd Floor Bldg.11,ChangXing Technical Zone,Wan An Road,Sha Jing town,Ban An district ,Shen Zhen ,GuangDong, China.
Skype: +8618823763597
WeChat: +8615623028461
whatsapp: +8618823763597
QQ: 1610996003





Company News
>> Curvature 1.4R! Samsung achieves commercial use of the world's most curved folding OLED screen
The industry generally believes that folding screens will become the main form of future development of smart phones. Prior to this, many domestic and foreign display manufacturers, such as Samsung and BOE, have launched their folding screen products.
Of course, there are also differences between folding screens and folding screens, one of the main core indicators is curvature.
On September 16, Samsung officially announced that at present, Samsung Display has achieved the industry's smallest 1.4R curvature OLED screen for commercial use. As the world's first 1.4R curvature foldable OLED display, it effectively improves ease of use by strengthening folding durability and reducing harmful blue light radiation.
It is reported that the curvature of 1.4R represents the degree of bending of a circle with a radius of 1.4 mm. The smaller the curvature, the greater the bending amplitude. When the curvature (R) value is small, there is no more space in the folding part, and it can be regarded as completely folded. The 1.4R folding OLED screen recently launched by Samsung Display is the one with the smallest curvature among folding screens put into commercial use so far.
Generally, when a panel composed of a multi-layer structure is folded, the compressive stress on the front of the panel and the tensile stress on the back of the panel collide with each other, which affects the panel structure, which we call "folding stress".
Folding stress is closely related to curvature. The smaller the curvature, the greater the folding stress. This is why a folded (folded inward) panel with a smaller curvature is more difficult to develop than a folded (folded outward) panel with a large curvature.
In order to overcome the folding stress, Samsung Display has optimized materials, design, modules and other aspects in an all-round way to cushion the influence of external forces generated when the multi-layer structure panel is folded.
This is Samsung's third folding OLED screen, with a screen size of 7.6 inches and a resolution of 2208x1768 pixels. According to Samsung, this new folding screen is not only larger in size than its predecessor, but also uses "Ultra-thin Glass" (UTG) as a folding screen protective layer, which is more than transparent polyimide (Colorless Polyimide, CPI) cover. The board is stronger and more beautiful.
In particular, the curvature is reduced to 1.4R, which makes the design of the folding mobile phone smoother and thinner. Samsung's recently released Galaxy Z Fold2 uses a new screen for the first time.
In order to avoid staring at the screen for a long time to damage eyesight, Samsung also reduced the proportion of harmful blue light on the screen to 6.5%, the lowest in the industry.