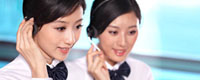 Name: Jessie
Tel: +86-755-27864416
Mobile: +86-18823763597
E-mail: jessie@rxxdisplay.com
Add: 3rd Floor Bldg.11,ChangXing Technical Zone,Wan An Road,Sha Jing town,Ban An district ,Shen Zhen ,GuangDong, China.
Skype: +8618823763597
WeChat: +8615623028461
whatsapp: +8618823763597
QQ: 1610996003





Company News
>> Samsung resolutely withdraws from LCD LCD panel production: employees have been diverted
According to previously announced information, Samsung will completely shut down the LCD panel production line before the end of the year.
This time, Samsung doesn't seem to have any plans to leave behind. In addition to the transformation of the factory, the original LCD factory employees have also been diverted.
South Korean media reported that the chip manufacturing department that accepts the most diverted employees may be related to Samsung's plan to invest US$115 billion to become the world's largest logic chip foundry company by 2030. Obviously, "everyone is picking up firewood. .
At the same time, Samsung Bio, Samsung SDI, etc. are also the main places for other employees. However, the report did not give the specific size and number of employees.
According to data, Samsung has deliberately reduced the production capacity of LCD panels since 2016, when it shut down as many as 6 LCD production lines.
In fact, not only Samsung, but also Panasonic and Mitsubishi decided to withdraw from LCD panel production this year.
It is also worth mentioning that the Samsung Snapdragon 865+ processor tablet Galaxy Tab S7, which was announced to be launched in China yesterday, is equipped with a 2K 120Hz LCD screen that was purchased from China Star Optoelectronics under TCL.