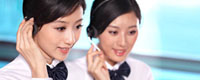 Name: Jessie
Tel: +86-755-27864416
Mobile: +86-18823763597
E-mail: jessie@rxxdisplay.com
Add: 3rd Floor Bldg.11,ChangXing Technical Zone,Wan An Road,Sha Jing town,Ban An district ,Shen Zhen ,GuangDong, China.
Skype: +8618823763597
WeChat: +8615623028461
whatsapp: +8618823763597
QQ: 1610996003





Company News
>> Huawei Smart Display has passed the certification! BOE LCD screen
Smart screens for laptops and TVs have been made. Will Huawei's monitor be far behind?
Today, the long-rumored Huawei display finally surfaced, passed the national 3C certification, confirmed to use the LCD screen provided by BOE (Hefei BOE Video Technology Cable Company), the models are AD80HN, AD80HW, AD80**.
Taking into account the current situation of Huawei, the use of BOE's screens can be said to be the most reasonable choice, not to mention the quality of BOE panels today can fully meet any demand from high-end to low-end.
More specification information is temporarily unknown, but it is said that the display products of Huawei and Honor will be called "smart display", which is the same as the name of the smart screen, but the difference is that the dual brands of Huawei and Honor will use the same The certification certificate, that is, except for the LOGO logo, there is no difference.
If the price is the same again...
According to previous reports, Huawei monitors have high-end, mid-range, and low-end displays. They have full coverage at one time. They have been tested for more than a year. One of them is 32 inches and uses 512 partitions or 1024 partitions similar to miniLED backlights. , Honor mobile phones have a special compatibility mode, which is included in the Huawei ecosystem.