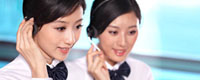 Name: Jessie
Tel: +86-755-27864416
Mobile: +86-18823763597
E-mail: jessie@rxxdisplay.com
Add: 3rd Floor Bldg.11,ChangXing Technical Zone,Wan An Road,Sha Jing town,Ban An district ,Shen Zhen ,GuangDong, China.
Skype: +8618823763597
WeChat: +8615623028461
whatsapp: +8618823763597
QQ: 1610996003





Company News
>> Sharp launches 8K Ultra HD professional LCD display
Sharp Electronics Corporation (SEC)'s subsidiary of the United States Sharp Imaging and Information Corporation (SIICA) has launched a new 120" level 8M-B120C 8K ultra-high-definition professional LCD monitor, designed to provide users with unparalleled realistic image details and quality, bright, Vivid large-screen image.
The 8K monitor has 33 million pixels, which is four times that of the 4K panel, which can provide realistic image quality, realistic depth and texture, and bring incredible immersive effects, allowing users to be in the scene in. The display uses wide color gamut color filters and optimized LED backlight phosphors, which can reproduce red, blue and green gray levels in the pixels. This gives it excellent clarity and is ideal for environments that require special details, including company lobbies, showrooms, museums and video production.
Gary Bailer, Director of Product Planning and Marketing of Sharp Imaging's Professional AV Products, said: "We are delighted to provide the largest display to date with the highest image quality, creating an incredibly immersive effect that puts users in In the scene." American Information and Information Corporation. "The new 8K display provides an overwhelming reality that has never been seen on the display, highlights Sharp's long history of innovation, and provides additional value for customers who want the best."
The 8M-B120C can run continuously for up to 16 hours a day, and has a built-in 70-watt multi-speaker audio system. The monitor is flexible to install and can be easily connected via a single HDMI cable and LAN port, which can connect the monitor to a PC. It can also be connected to four PCs via video cables to display content on a large screen. In addition, it is also bundled with floor brackets and wall brackets. The new 8K display can be ordered specially, and the order can be placed immediately.
Ultra HD technology also greatly expands the contrast and color range. The 10-bit extended color range of the display expands the range of possible color values ​​in each pixel to 1.07 billion colors. In addition, it reduces the motion blur during fast panning or moving, making the scene look more realistic.
In addition to image quality, 8K UHD represents a major development in sound. The sound system uses 22.2 multi-channel audio, arranged in the upper, middle and lower layers. There are nine channels on the upper level, ten channels on the middle level, and three channels on the lower level.
Sharp Imaging and Information, a subsidiary of Sharp Electronics Corporation, sells Sharp's commercial products, including professional and commercial displays.