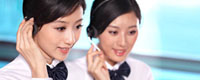 Name: Jessie
Tel: +86-755-27864416
Mobile: +86-18823763597
E-mail: jessie@rxxdisplay.com
Add: 3rd Floor Bldg.11,ChangXing Technical Zone,Wan An Road,Sha Jing town,Ban An district ,Shen Zhen ,GuangDong, China.
Skype: +8618823763597
WeChat: +8615623028461
whatsapp: +8618823763597
QQ: 1610996003





Company News
>> HMD next-generation flagship broke the news: high refresh rate OLED screen
HMD has not updated its flagship product since the release of Nokia 9 PureView. Previously, it was rumored that Nokia's next-generation flagship was named Nokia 9.3 PureView, but for now, Nokia 10 may be the final name.
News on October 28, according to Nokiamob. According to the information disclosed by net, Nokia's next-generation flagship will be named Nokia 10 and is expected to be released at a later date.
Unfortunately, the specifications and specific release time of the Nokia 10 are still unknown.
Since it is the flagship positioning, the Qualcomm Snapdragon 8 series flagship processor should be one of the target choices for Nokia 10. This is the flagship standard for the Android camp this year.
Considering that Qualcomm will release the Snapdragon 875 chip on December 1 and will be mass-produced for commercial use at the beginning of 2021, whether Nokia can become the first batch of commercial Snapdragon 875 mobile phone brands remains to be discussed.
After all, the first two generations of flagship Nokia 8 Sirocco and Nokia 9 PureView were missing the latest Snapdragon chips at the time, such as Nokia 9 PureView, which is equipped with Qualcomm Snapdragon 845 processor, while competing products are equipped with Snapdragon 855 chip.
In addition to the possibility of using Snapdragon flagship chips, Nokia 10 is expected to use OLED screens, which may support high refresh rates, and flagship standard features such as large-capacity batteries and fast charging are not expected to be absent.