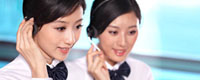 Name: Jessie
Tel: +86-755-27864416
Mobile: +86-18823763597
E-mail: jessie@rxxdisplay.com
Add: 3rd Floor Bldg.11,ChangXing Technical Zone,Wan An Road,Sha Jing town,Ban An district ,Shen Zhen ,GuangDong, China.
Skype: +8618823763597
WeChat: +8615623028461
whatsapp: +8618823763597
QQ: 1610996003





Company News
>> The 8-inch wafer capacity squeezing LDDI will be more short next year, how to solve it?
According to the Taiwan Media Business Times, the display research office of the research and research organization TrendForce said that the demand for IT panels in 2020 will benefit from remote office and teaching, and the demand for large-size display driver chips (LDDI) will simultaneously drive 58.27. 100 million pieces, an annual growth rate of 2.3%.
On the other hand, 8-inch wafers on the upstream supply side are affected by the capacity crowding out of other high-margin chips, causing the supply-demand ratio of LDDI to drop from 3.3% in 2019 to 1.7% in 2020, showing a supply tightening trend.
In addition, TrendForce analyst Yang Qingxiang further pointed out that in the second half of this year, the LDDI market continued to increase prices and chase volume.Except for the two adjustments of LDDI foundry quotations by upstream fabs, the downstream packaging and testing capacity was insufficient and IC bumping was connected. The high prices of gold raw materials in China are the reasons that led to a 20-30% increase in LDDI prices in the second half of the year.
Looking forward to 2021, from the supply side, the capacity growth of 8-inch wafers has been limited in recent years, but the demand for image sensor chips (CIS), power management chips, etc. is increasing day by day, and it is also crowded out for LDDI with the same process and relatively poor gross profit. Production capacity, coupled with the transfer order effect of SMIC's sanctions, will also make the overall market conditions more severe.
Overall, TrendForce believes that terminal demand for panels will remain high-end in 2021, which means that the supply of LDDI will be even more tight. It is expected that the supply-demand ratio will drop again from this year's 1.7% to 1.1%. It is still difficult to alleviate the supply contraction in the third quarter. Therefore, the risk of LDDI material shortage not only has the opportunity to bring a certain degree of support to panel prices in 2021, but also supply chain management and material preparation strategies have become important business issues for panel factories.