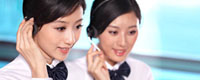 Name: Jessie
Tel: +86-755-27864416
Mobile: +86-18823763597
E-mail: jessie@rxxdisplay.com
Add: 3rd Floor Bldg.11,ChangXing Technical Zone,Wan An Road,Sha Jing town,Ban An district ,Shen Zhen ,GuangDong, China.
Skype: +8618823763597
WeChat: +8615623028461
whatsapp: +8618823763597
QQ: 1610996003





Company News
>> BOE has completed shipments of the first batch of AMOLED panels to Apple
BOE finally entered Apple's supply chain system.
On December 28, Luotu Technology cited relevant supply chain sources as saying that the Chinese display panel manufacturer BOE had completed the first batch of AMOLED panels for Apple's iPhone smartphones before December 25, with a panel size of 6.1. Inch, the quantity is 10,000 pieces.
According to sources in the supply chain, these screens will be used in iPhone 12 and iPhone 12? Pro models. The person also said that before New Year's Day, BOE is still likely to complete the second batch of iPhone panel shipments.
The products supplied for the iPhone are jointly produced by two G6 flexible AMOLED production lines in Chengdu and Mianyang: the panel monomers are produced by the Chengdu B7 factory, and the shipped panel modules are completed by the Mianyang B11 factory.
Some insiders predicted that Samsung will supply 130 million OLED panels for iPhone in 2021, and BOE and LG Display will provide 10 million and 40 million respectively. The BOE's internal target shipment of iPhone OLED panels in 2021 is 20 million.
Robin, an Apple product analyst at Luotu Technology, believes that the cooperation model between Apple and BOE is most likely not a simple order-based production and sales, but may be based on BOE's supply capacity to produce and sell.
In 2020, BOE submitted at least two samples to Apple for testing and certification, all of which were stuck in the reliability index of Foxconn iPEG, and they have not passed. On December 24, it was revealed that BOE had officially passed Apple's certification.
According to Luotu Technology's statistics, in the third quarter of 2020, global smartphone AMOLED panels shipped 140 million pieces. Among them, Samsung's share of shipments dropped sharply from 90% last year to 77%, while BOE and LG Display ranked second and third, and the overall proportion of Chinese panel makers increased from 8% last year to 17%.