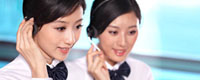 Name: Jessie
Tel: +86-755-27864416
Mobile: +86-18823763597
E-mail: jessie@rxxdisplay.com
Add: 3rd Floor Bldg.11,ChangXing Technical Zone,Wan An Road,Sha Jing town,Ban An district ,Shen Zhen ,GuangDong, China.
Skype: +8618823763597
WeChat: +8615623028461
whatsapp: +8618823763597
QQ: 1610996003





Company News
>> Analysis of market status and development prospects of China's TFT-LCD panel industry in 2022
The LCD product value chain constitutes a "smile curve", that is, the gross profit margin of the LCD industry chain is U-shaped, the high gross profit margin on the left is upstream basic materials (more than 40% gross profit margin), and the middle low gross profit margin is midstream panel manufacturing (10- 20% gross profit margin), the higher gross profit margin on the right is the downstream terminal product (gross profit margin 20-30%).
With the strong support of the Chinese government for the development of the panel industry, and the rapid development of my country's downstream industry chain in recent years, the development of my country's TFT-LCD industry has been driven by major domestic panel manufacturers to open production lines. The industrial line is further laid out to expand production. According to IHS data, the global TFT-LCD output value in 2020 has reached 131.5 billion US dollars; CCID data shows that China accounts for 50% of the global TFT-LCD output value. Based on the two calculations, my country's TFT-LCD output value has reached 657% in 2020. .5 billion.
In recent years, the liquid crystal panel industry in mainland China has risen rapidly, and TFT-LCD shipments have also increased year by year. Among them, TFT-LCD large-size panels have grown faster. In 2020, large-size TFT-LCD shipments in mainland my country will be 266 million film, a year-on-year decrease of 7.16%.
Overall, my country's TFT-LCD development is good. Although affected by the epidemic in 2020, the panel shipments have slightly decreased, but the panel industry prices have continued to rise, and the industry scale has increased. In the long run, after the global epidemic is over, the panel supply capacity will be further improved, and the price of LCD panels may be lowered in the future.