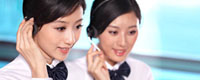 Name: Jessie
Tel: +86-755-27864416
Mobile: +86-18823763597
E-mail: jessie@rxxdisplay.com
Add: 3rd Floor Bldg.11,ChangXing Technical Zone,Wan An Road,Sha Jing town,Ban An district ,Shen Zhen ,GuangDong, China.
Skype: +8618823763597
WeChat: +8615623028461
whatsapp: +8618823763597
QQ: 1610996003





Company News
>> BOE withdraw from LCD investment next year will close the second five generations of plants? 27th,Apr,2017
China's largest panel factory BOE said that the future will no longer invest in the LCD industry, while the first day of Beijing next year will be closed the second generation of five generations of plants, help reduce the smart phone panel and other small and medium size panel supply, revealing the global LCD industry The arms race will come to an end.
WitsView Research Associate Professor Qiu Yubin said that after the closure of a five-generation plant (L5) last year, BOE will close the second five-generation plant (L6) in the first quarter of next year. As a result of the production of small and medium-sized panels such as mobile phones, Small and medium size panel supply and demand balance, Caijing and CPT and other small and medium-sized plant to benefit from the larger.
In the field of display, BOE is no longer investing in TFT-LCD production line, the future investment focus is active organic light-emitting diode (AMOLED) and other new generation of display technology, BOE will be based on the Customer demand and market changes to the layout.