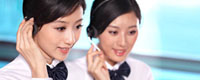 Name: Jessie
Tel: +86-755-27864416
Mobile: +86-18823763597
E-mail: jessie@rxxdisplay.com
Add: 3rd Floor Bldg.11,ChangXing Technical Zone,Wan An Road,Sha Jing town,Ban An district ,Shen Zhen ,GuangDong, China.
Skype: +8618823763597
WeChat: +8615623028461
whatsapp: +8618823763597
QQ: 1610996003





Company News
>> Panel prices + alternative effect OLED market space is vast 8th,May,2017
The recent liquid crystal display prices fierce momentum, including 32-inch and 6-inch small size below the maximum price increases in July panel prices have become a keynote. In addition, unlike the LCD luminous rely on the backlight module, OLED is a self-luminous mode, with obvious advantages, its continuous improvement in the field of intelligent terminals, television. Panel price increases alternative effect, OLED industry is expected to usher in the outbreak, it is worth the attention of investors.
Starting from March panel prices continue to rise, of which 32-inch and 6-inch small size of the largest price increases, even more surprising is that the machine's 1.77-inch mobile phone screen actually rose more than 200%, and now the situation , July LCD screen rose tone has become a foregone conclusion.
Institutional sources pointed out that if the careful analysis of the panel prices rose, you can find short-term price increases will continue for some time. From the beginning of the year to the price of the process of interpretation, because TFT LCD technology is mature, overcapacity caused by the shutdown factory production capacity is the fuse of this round of price storms. And this round of price increases in the process, the mainland enterprises will be the most benefit. Learned from the industry chain, in order to consolidate the supply, Huawei has booked a number of companies mobile phone panel production capacity, display manufacturers offer has been updated once a week offer, the price to order time to prevail, etc. to avoid the impact of panel prices The So for the panel manufacturers, the second half of the expected performance is expected to exceed expectations.
The first quarter of 2016 data show that the cost of OLED has been very close to the LCD, and with the further improvement in yield, OLED will have the advantage of cost, past constraints are no longer shackles. At the same time Apple is expected in the 2017 iPhone in the use of OLED screen, as the benchmark for smart phones, each innovation will be a strong demonstration of the role of the industry chain, and Huawei, millet and other manufacturers will also apply a good effect More domestic manufacturers to follow suit. And in the supply side, not only Samsung, LG actively expand production for Apple's orders to prepare, domestic enterprises are also actively expanding production in order to catch up with South Korea's chances. The panel prices for the OLED industry constitutes a positive.