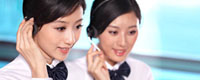 Name: Jessie
Tel: +86-755-27864416
Mobile: +86-18823763597
E-mail: jessie@rxxdisplay.com
Add: 3rd Floor Bldg.11,ChangXing Technical Zone,Wan An Road,Sha Jing town,Ban An district ,Shen Zhen ,GuangDong, China.
Skype: +8618823763597
WeChat: +8615623028461
whatsapp: +8618823763597
QQ: 1610996003





Company News
>> National policy support will accelerate the development of OLED display 23th,Mar,2017
Recently, the relevant state departments issued "on the implementation of the manufacturing industry to upgrade the major project package notice", clearly pointed out that the development of OLED evaporation process unit equipment components, evaporation equipment, automated transfer system, flexible layout display. This means that the development of OLED display technology has aroused the attention of the national level, the policy will be good to accelerate the development of the market.
National policy support will accelerate the development of OLED display
Relevant agencies predicted that by 2018, the TV as the core of the large-size OLED screen market will be fully launched, the next 10 years, OLED products is expected to account for the entire display market, the proportion of 30% to 40%. With the scale of the support of the civilian market, OLED display prices are expected to loose, large-scale commercial will no longer distant.
At present, there have been many large-screen display of business OLED display business to give a high degree of concern. For example, GQY video, said the company to do OLED display applications, positive thinking to integrate it into the company's integrated display program; LG has publicly stated that in 2016 will officially launch OLED digital signage business, and, in the IFA2015 show On the launch of the surface OLED splicing products; Riard after the acquisition of Pingda, also made it clear that the OLED display will focus on specific business display areas to promote, and so on.
Through the action of the above enterprises is not difficult to see, large-screen display of the OLED display to promote the business is no longer stay in a simple verbal, but has been in technology research and development and industry applications actively. Now, with the policy of good, business enterprises will be more enthusiastic enthusiasm, especially for large-screen domestic enterprises, this will become the LCD era to break the "follow" model, to achieve "corner overtaking" excellent Opportunity.