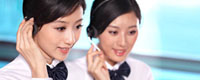 Name: Jessie
Tel: +86-755-27864416
Mobile: +86-18823763597
E-mail: jessie@rxxdisplay.com
Add: 3rd Floor Bldg.11,ChangXing Technical Zone,Wan An Road,Sha Jing town,Ban An district ,Shen Zhen ,GuangDong, China.
Skype: +8618823763597
WeChat: +8615623028461
whatsapp: +8618823763597
QQ: 1610996003





Company News
>> BOE fight to stop investing in LCD panels and strive to OLED 9th,May,2017
As the largest liquid crystal panel manufacturer in mainland China, BOE Technology Group Co., Ltd. has stopped investing in new LCD panel projects, turning to OLED (organic light-emitting diode) panel industry to find more business opportunities.
Recently, BOE Chairman Wang Dongsheng interview with the news media, said: "I am worried that some low-level repeated investment, will affect the healthy development of our industry in October next year, Beijing Oriental 6-generation flexible AMOLED will be mass production, which is China's first, the world's second flexible AMOLED production line. Each investment, we have to meet the promotion of industrial upgrading and revenue to enhance the principle of the semiconductor display, we in principle no longer invest in TFT-LCD production line, the future investment The focus is AMOLED and other new generation of display technology.
Prior to the production of OLED panel business is mainly South Korea LGD and Samsung. Today, Wang Dongsheng said the remarks, BOE in the upstream panel industry investment strategy has undergone major changes. BOE in the LCD panel industry defection, large-scale into the OLED industry, will make OLED panel supply more adequate, is bound to significantly enhance the downstream color TV manufacturers to produce OLED TV initiative, OLED TV market will usher in a faster development opportunity.
China's other LCD panel manufacturers are reluctant to give up the growth opportunities brought about by the OLED industry. Plans to invest a total of about 46.5 billion yuan Huaxing photoelectric 11th generation TFT-LCD and AMOLED new display device production line is expected in July 2019 formally reached production, in addition to the production of LCD panels, will also produce OLED display.
In recent years, China and the global LCD TV market as a whole malaise. TrendForce's photoelectric office WitsView latest report shows that in 2015 the global LCD TV total shipments of 215 million units, down 0.6%. Ovid cloud network (AVC) data show that 2016 in the first half of China's color TV market retail sales of 71 billion yuan, down 4.0%.